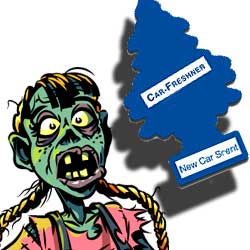 I'm OK, You're OK… Or Not
When it comes to the people around me, who really try to accommodate my chemical sensitivity condition, I realize I sabotage their good intentions sometimes by trying to accommodate their accommodating gestures.
Wait, don't get confused yet, there's more. Maybe you you should lie down on the couch.
Am I running through Dr. Thomas Harris' levels of Transactional Analysis? I'm guilty of that with different people in my life. Who doesn't become the "Parent" or "Child" when interacting with siblings. Right? It's not just me, is it?
The "I'm OK, You're OK" I'm talking about is my own personality trait of being… well, I'll just say it, A People Pleaser. Why am I like this? We won't go there, but I have my suspicions. Still, after nine years of dealing with and still learning about my own chemical sensitivity, I still struggle with being completely forthright in declaring my needs to others.
When I am around a friend or relative, I can see (they tell me) that they have made every precaution in anticipation of our gathering. They did not spritz the perfume, they did not slap the face with aftershave, or, and this doesn't usually occur to people, they did not re-wear the shirt they wore the other day when they did wear cologne. I am so grateful to them and I don't like the attention. I also do not want to make them feel bad if there is still some chemical element that any "normal" (which I'm not) person would consider.
So I try to "be okay" since they went to so much effort. Does this work? You know the answer is NO! And if you know about MCS, then you know that as I sit there conversing, my head is beginning to pulse, I start getting brain fog and eventually get agitated. Then I run the risk of saying something in a tone that I never intended.
So, I'm not OK! Let me just say that. And unfortunately, the people around me are not so OK either. I have never liked to complain because of the subsequent sympathy. I feel as though that is all I get and yeah, I just said that as if it is a bad thing. Therefore, I must make a paradigm shift in my view of how others view me. And I must develop the ability to tell people what I need.
Why is that so hard? Well, when someone comes into my house with a cloud of car-freshener stench around them, how can I possibly ask them to get a new car?
I'm going to work on it though.
Laura
https://laurahardesty.com/redesignz/wp-content/uploads/Im_okay.jpg
250
250
Laura
https://www.laurahardesty.com/redesignz/wp-content/uploads/lhlogo1.png
Laura
2011-08-18 09:04:33
2014-12-31 11:43:44
I'm OK, You're OK… Or Not